RV Paint & Body Shop in Loveland & Wheat Ridge near Denver, CO
RV Paint Shop
You want your RV to look good, so Cousins RVs' paint specialists only use the latest advanced painting systems and techniques that are out there. We specialize in multi-color, custom paint matching via computer and custom paint schemes. Our specialists can recreate high luster finishes that have become a trademark of custom coaches. Our expert service technicians are so talented that we provide a limited lifetime warranty on our RV's and small trailer repairs. Our gigantic state of the art paint booth (one of the largest in the state) 55' long and 16' X 16' downdraft spray cabin that his heated and able to bake-cure a new paint finish. This gives us a distinct advantage over other RV Paint and RV Body Shops. Our refinish specialists use Axalta Coating Systems.
RV Body Repair Shop
We know that your RV or small trailer is like a member of your family and you don't like just anyone working on it. We understand completely. We make sure that out RV body repair shop specialists are trained in the latest techniques and have years of experience working with RVs . You can breathe a sigh of relief secure in the thought that your "baby" is in the best possible hands and getting the best service possible. In the more than 50 years Cousins RV has been around, we have taken care of thousands of RVs and motorhomes. We are experts in fiberglass reconstruction and metal fabrication, using only the most state-of-the-art techniques and machinery. We can work with insurance companies to make sure your RV is repaired with as little out of pocket money as possible. Cousins RV' body shop is the best in the industry and you'll know it the second you walk in.
Colorado RV Windshield Replacement
Don't let your cracked or broken RV windshield be replaced by standard car windshield specialists. An RV windshield is a completely different animal and needs to be installed by a professional. Cousins RV are experts in windshield replacement and repair making us your windshield specialists. We are fully backed by manufacturers and insurance agencies to provide top notch window service. We specialize only in RV windows and understand the importance of the windshield for structural integrity. Our expert windshield technicians can complete any needs or requirements you may have. They will use only the best glass and proper materials to make sure your windshield meets or exceeds your vehicle's factory specifications.
Colorado RV Paint Shop
Is your RV looking a little shabby? Maybe you need a custom paint job that can the pizzazz and attractiveness back to your vehicle. We've been providing service to the Loveland area for more than 10 years, a Premier Coach Works custom RV paint shop can make your motorhome or toy hauler look better than when it came out of the showroom thanks to their years of experience and professional ability. If a complete makeover isn't needed, then maybe you should think about getting some touch-ups to those problem areas. We can do that too. Cousins RV is a cut above the rest with a modern service center and professional, educated personnel ready and able to get your repairs done quickly and affordably. We take care of every aspect of the repair from start to finish. We are, by far, head and shoulders above the rest and repair all types of RVs from motorhomes to toy hauler trailers. There's never been a better time to visit our expert paint shop professionals. They can make sure your beloved motorhome gets the respect and treatment that it deserves. There's no need to spend your hard earned money on a brand new RV when you can get that new look with your existing ride.
Our RV painting professionals can help you with:
Custom paint job for your RV
RV Striping
Removal of scratches
Body repair painting
Repairing peeling
Spraying on a gel coat
Replacing fading vinyl decals
A new paint job can breathe new life into your RV. Call Cousins RV today for a free estimate on a professional paint job.
Our Professional RV Paint Skills
RV Striping
Custom RV Paint
Spot Refinish Work
Decal Replacement
Fading RV Vinyl Decals
Repair Peeling RV Paint
RV Body Repair Painting
Collision repair & refinish
Complete refinish service
RV Gel Coat Discoloration
Original RV Design Painting
RV Scratch Removal and Detail
Custom painted stripes & graphics
Polyglo gel coat protectant application
Paint and Refinish trailers/tow vehicles to match RV
Exterior RV Body Repair
Awnings
Dry rot repair
De-lamination
Fiberglass repair
Gel coat repairs
Automatic steps
Aluminum repairs
Roof replacement
RV skylight repair
Roof maintenance
Total collision repair
RV exterior painting
Smoke & fire damage
Storm and hail damage
Cargo door fabrications
Structural frame repairs
Sunshades, sunscreens
Full panel replacement
Coach structural repairs
Slide out repair & maintenance
Replacement of outer body panel
Interior:
Flooring and carpet replacement
Floor replacement and repair
Holding tank repairs
Cabinet replacement and repairs
Plumbing repairs
Electrical repairs
Generator repairs (10 years or newer)
Refinish:
Total refinish services
Collision refinish and repair
Custom graphics and painted stripes
Decal replacement
Spot finish work
Refinish trailers or tow vehicles to match your RV
Application of Polyglo gel coat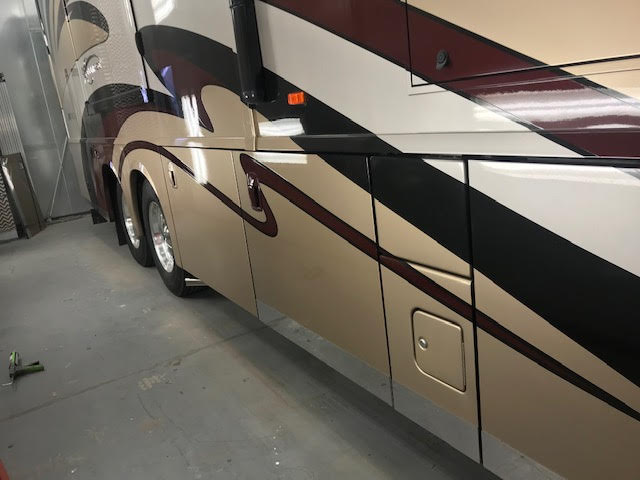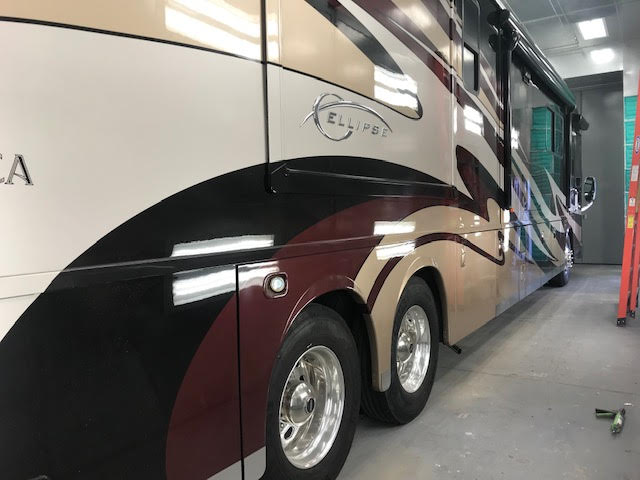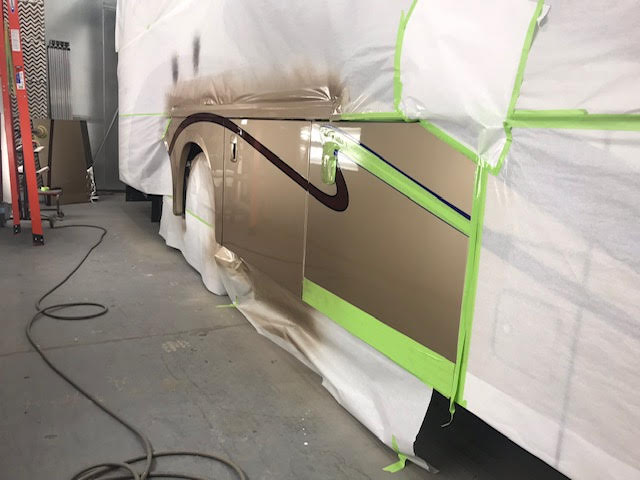 Bring in Your Extended Warranties
Any RV owner should have an extended warranty and we are more than happy to provide service for a wide bevy of major extended warranty programs. It doesn't matter if you need small or large repair work, our professionals will take care of you. We'll even do the paperwork so you can focus on getting back on the road. Cousins RV is ready for your business and will work diligently to make sure you have the best experience possible. Call today! 303-422-2001
Why Choose Us
Fully insured
Free estimates
Video secured premises
Full service RV Body shop
State of the art Paint booth
Factory trained technicians
Large and small RV repairs
All insurance claims are welcome
Competitive non-insurance pricing
Custom Color multi color matching
State of the art equipment & training
All work covered by Limited Warranty
RV Collision repairs on all makes and models
RV Paint and RV Body Shop Testimonials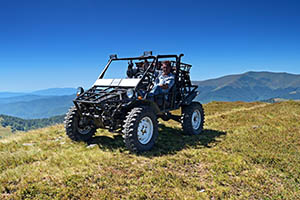 Couldn't believe how great of a job you guys did. Couldn't even tell that our toy hauler trailer had even been hit. Thanks so much!

George and Marie B. Longmont, CO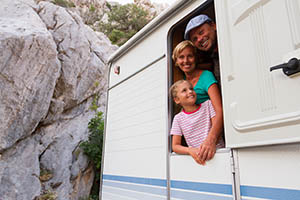 I couldn't be happier. We were on our way back from Wyoming when we went off the road and almost destroyed our small RV on a large boulder. The guys at Cousins RV had our RV brought in and repaired in time for me to get back to work Monday morning.

Barry N. Centennial, CO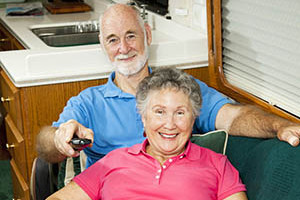 The staff is awesome and the guys in the body shop did an amazing job on painting our used Heartland RV. I don't think I'd use another RV dealer if someone paid me.

Joe G. Alamosa, CO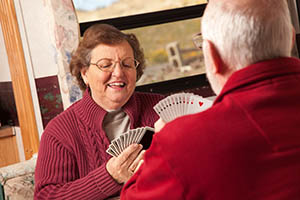 I want to thank you all so much. After I convinced my wife to buy RV campers for our family reunion, I thought I'd never live it down when I damaged the rear end on one trying to back out of our driveway. Luckily, the insurance we took out through Cousins RV covered the damages and the fellas in the service bays were able to make it look brand new.

Eugene T. Boulder, CO
RV Paint & Body Shop FAQ's